Stretford Public Hall, Manchester, UK
Project Brief
Stretford Public Hall was built by John Rylands in 1878. John Rylands was Manchester's first multi-millionaire and made his money from textile mills. The original Hall was designed by architect N.Lofthouse in a mixed gothic revival style and cost £30,000 to build.
The Hall is often referred to as the 'Town Hall' although it is not used for any administrative purpose. In 1910 Stretford Public Hall was brought by Stretford Council for a nominal fee of £5,000. 39 years later the building reopened as the Stretford Civic Theatre, fully equipped with a stage for the use of local groups. The Theatre served as a popular community centre and live music venue for many Mancunians until it fell into disrepair in 1987, despite being designated a Grade II listed structure. In the mid-1990s the Hall was refurbished by Trafford Council to serve as council offices and in 1997 was re named Stretford Public Hall.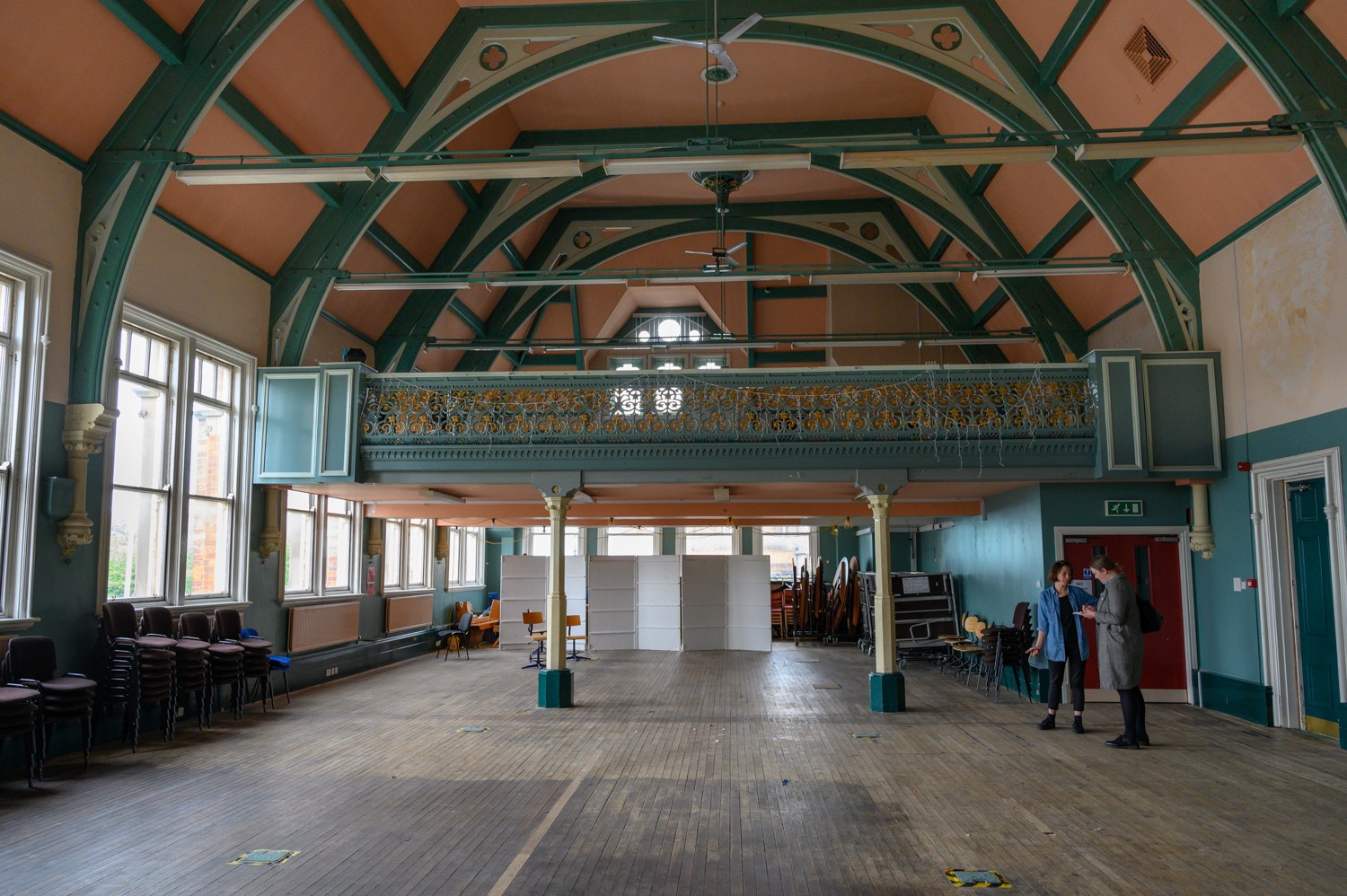 The opportunity arose for Illuma to give the Hall a new lease of life by redesigning and upgrading the lighting in 2018 thanks to £68,000 of Architectural Heritage funding.The renovation brief was to modernise sections of the building with the aim of making it the biggest cultural space in Stretford.
The lighting brief was to provide a complete and comprehensive lighting proposal that would not only upgrade and re-light the space but provide flexible lighting for all kinds of community activities and events.
Solution
Illuma used a combination of Prospot LED spotlights on a 3-Circuit 230V tack system and Highlux 135 LED downlights to increase the lux levels in the space and upgrade the Hall's existing lighting.
Across the beams on the apex of the ceiling a mixture of 3,500 and 1,800 lumen output Prospot LED spotlights were used to uplight the elaborate ceiling and provide a good level of general illumination for the Hall balcony. A 3-Circuit 230V track system was the preferred solution in this area due to several ceiling complications and the ability to allow fixtures to be positioned precisely where required. This track system also enables up to three lighting configurations to be set up on one track and then be controlled and switched individually for greater flexibility.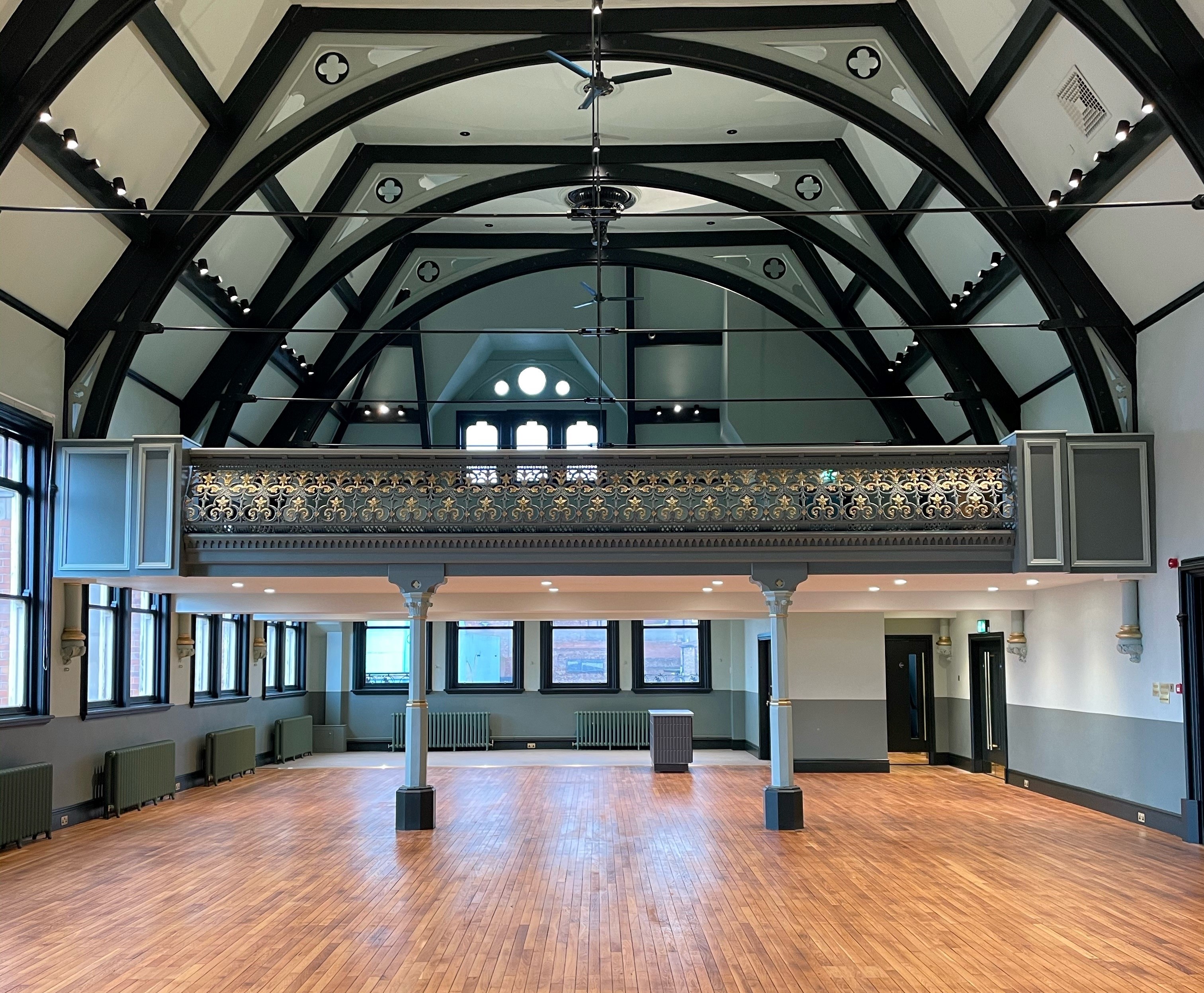 On the underside of the balcony ceiling 3,000 lumen output, white cone, warm white Highlux 135 LED downlights were used to increase the lux levels in the space and provide excellent general lighting.
Warm white luminaries were used throughout the lighting scheme to provide a softer light and create a cosy atmosphere in the large space.
Illuma's Area Manager, Jyoti Mistry, said, "Our main objective with this lighting design was to provide a simple, cost-effective lighting upgrade that would totally re-light the Hall. One of our main objectives throughout was to use light to accentuate the buildings character and architecture."
---
Find out more about Stretford Public Hall: Stretford Public Hall
---
Share
Ranges Used
Back to Case Studies