C. Bechstein Centre, Manchester, UK
Project Brief
C.Bechstein, a renowned manufacturer of premium upright and grand pianos, was founded in Berlin in 1853. Their instruments are known for their outstanding and rich sound, captivating generations of pianists and music lovers for over 150 years.
Illuma was approached to create a comprehensive lighting design proposal for Bechstein's showroom in Manchester, which is currently the only official Bechstein showroom in the country. The opportunity to collaborate with such a historic brand and enhance the beauty of the exquisite pianos was one that certainly excited Illuma's lighting design team.
The objectives were to achieve the appropriate lux levels to accentuate the instruments in the primary showroom and practice rooms. This would not only enhance their appearance but also enable pianists to play with precision. Additionally, there was a need to showcase a mural on the stone wall and ensure that the space was flexible and capable of accommodating future requirements.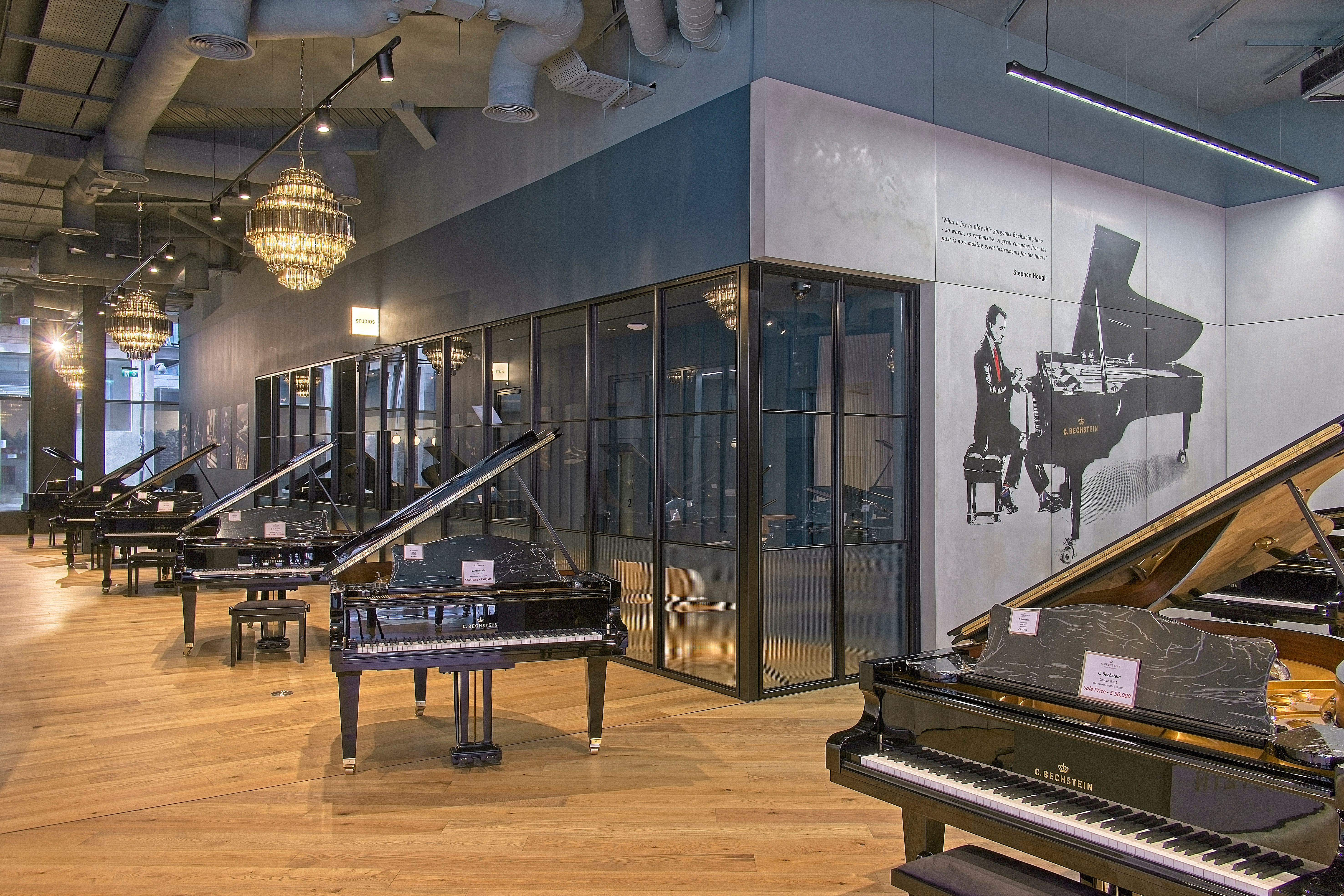 Solution
To achieve this, throughout the main showroom Illuma used the DALI Dimmable Prospot, paired with linear runs of Control track, The Prospots' high CRI (Colour Rendering Index) and lumen performance of made it the ideal choice to emphasize the wood grains in the space and add a "wow factor" to the pieces.
The linear track runs were designed to create drama and depth in the showroom, this layout also gives the space extra flexibility with all areas being covered by the carefully planned track layout.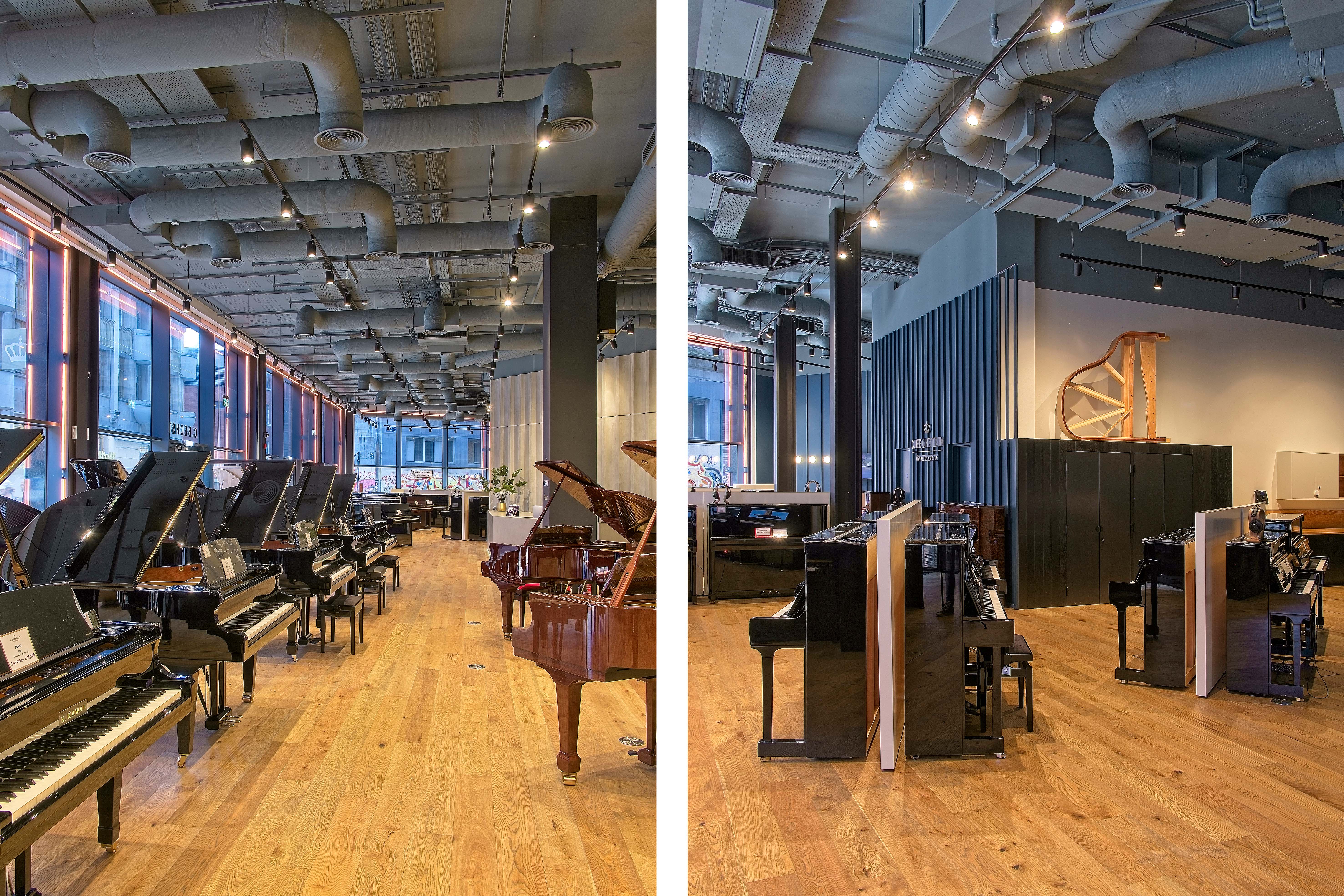 The ability of the Prospots to be dimmed using DALI was a crucial factor for the showroom. It was essential for them to adjust the lighting and ambiance in the room especially for the stage area in which guest pianists can come and perform to a seated audience.
Another area of focus for illuma was the practice rooms, these are six purpose-built, sound insulated practice and teaching studios available to hire. The Infinia Silver cone were used in here which provide a comfortable amount of light to be able to accurately practice and teach whilst the silver finish gives the room a classy finish and aesthetic.
Finally, A mural depicting Sir Stephen Hough CBE, a British-born classical pianist, composer, and writer, was highlighted using the Linia Blade S Wallwash. Illuma utilized this lighting fixture to uniformly wash the stone wall with neutral white kelvin temperature, creating a contrast with the warm white ambient lighting to make the mural stand out and become an impressive focal point.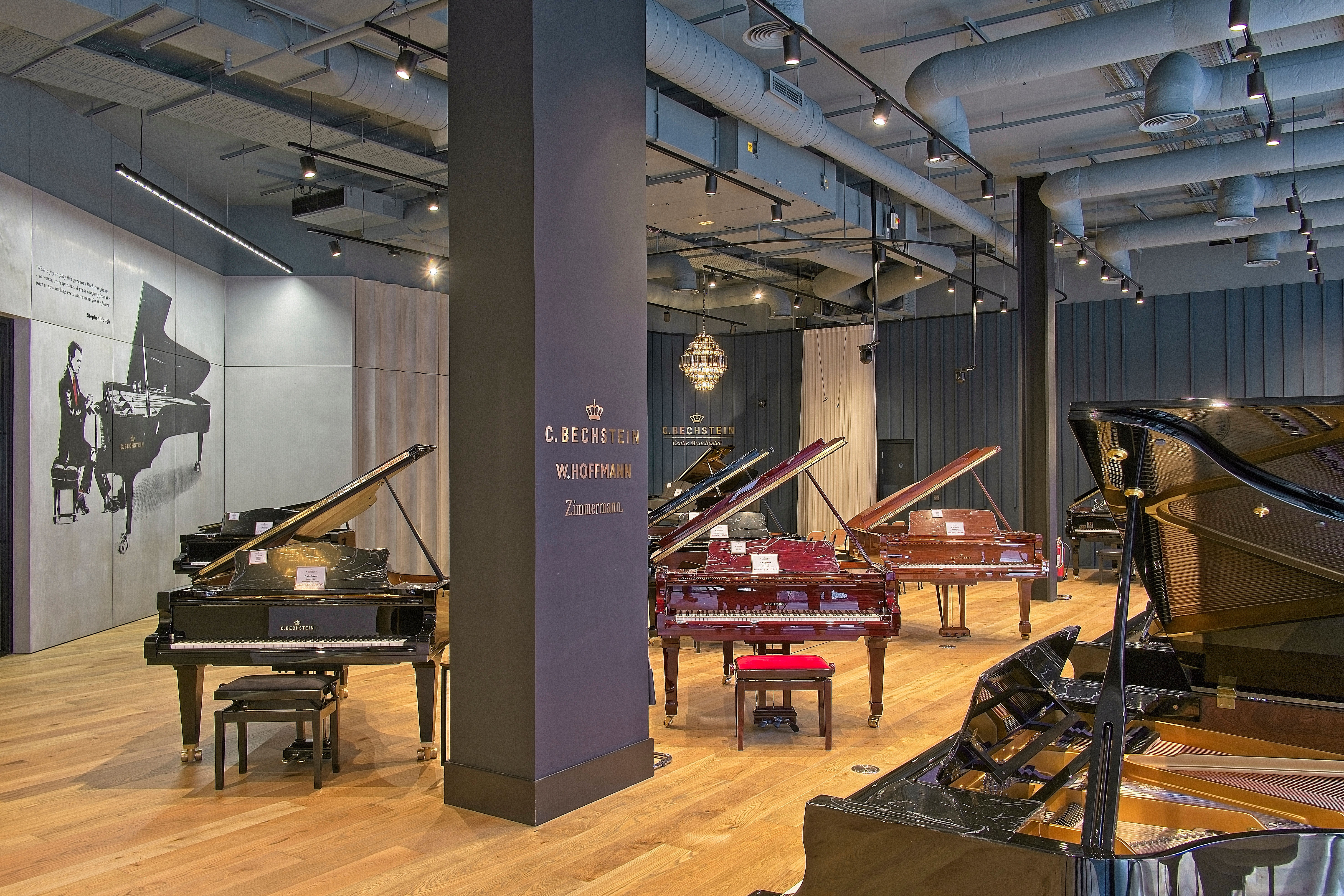 The representatives from C.Bechsteins have expressed their delight with the Illuma products and solution – so much so that Illuma are now being specified and are working towards their latest C.Bechstein Flagship store in London W1 which is due to be opening early 2024.
Share
Ranges Used
Back to Case Studies