Retail Design Expo 2017 Review
Providing the perfect retail lighting solutions at Europe's leading event for retail - Retail Design Expo 2017!
Firstly Illuma would like to say a huge thank you to all that visited us at the 2017 Retail Design Expo show! This was the second time Illuma have exhibited at the retail show and it has been an overwhelming success.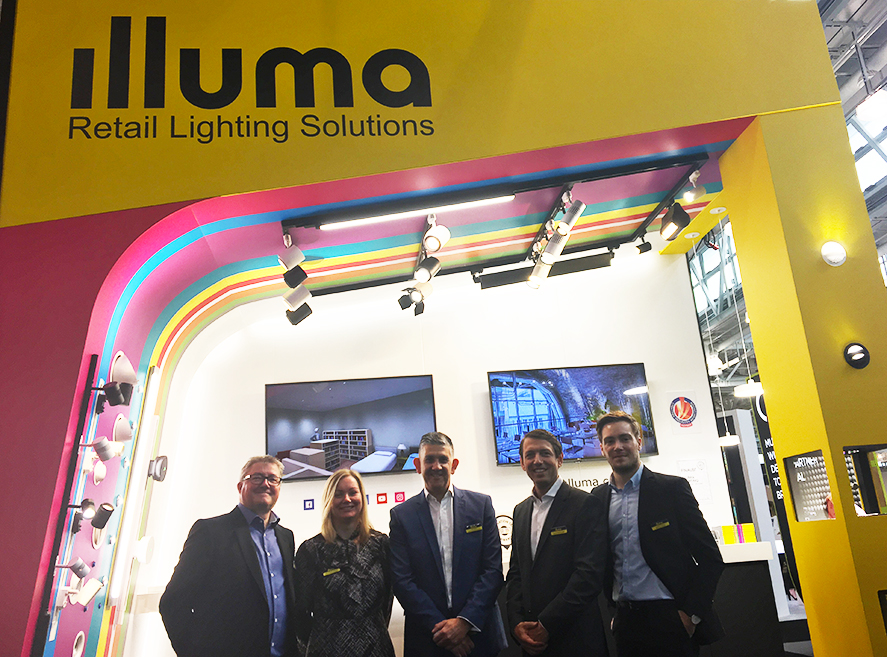 Illuma Lighting's 2017 Retail Design Expo Team and Stand
Europe's leading annual event for innovation and inspiration in retail design, marketing, visual merchandising and shop fitting provided the perfect platform for Illuma to showcase many of our latest lighting solutions, including our NEW Arc 111 LED, Arc 160 LED, Arc 200 LED downlights and our most exciting range of flexible LED spotlights to date - Prospot LED, Probeam LED and Highspot LED. Other highlights from the show included our NEW Highlux 135 LED range and NEW Linkline LED ideal for feature lighting in retail.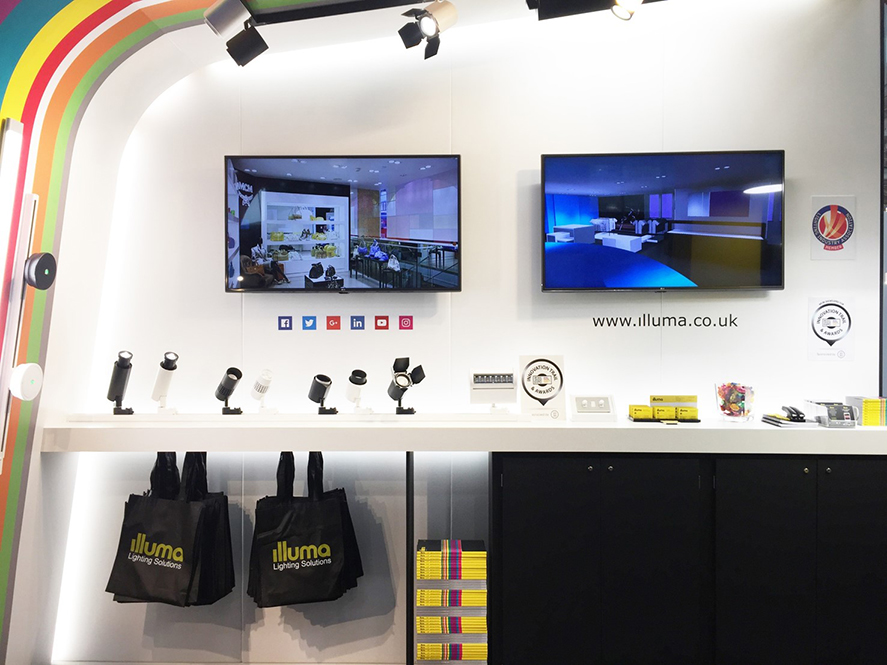 Illuma Lighting's 2017 Retail Design Expo Stand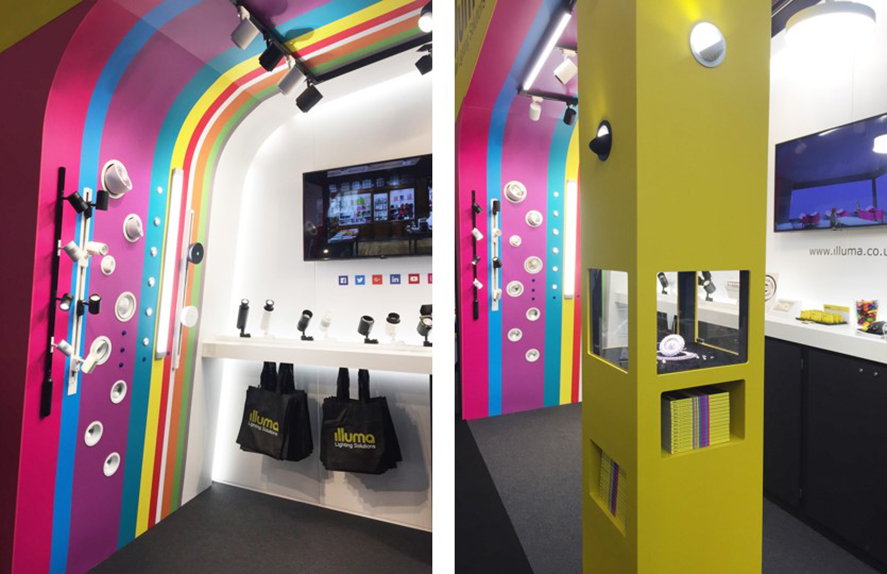 Illuma Lighting's 2017 Retail Design Expo Stand
Located at Olympia, London the Retail Design Expo show attracted all kinds of visitors from the world of retail. Visitors included retailers, designers, marketers, visual merchandisers, architects and shop fitters who all wanted to find new ideas or suppliers. Recognised throughout the retail industry as one of the years must attend events the Retail Design Expo 2017 continues get bigger and better since its hugely successful launch in March 2015. This year's show was held over the 8-9 May.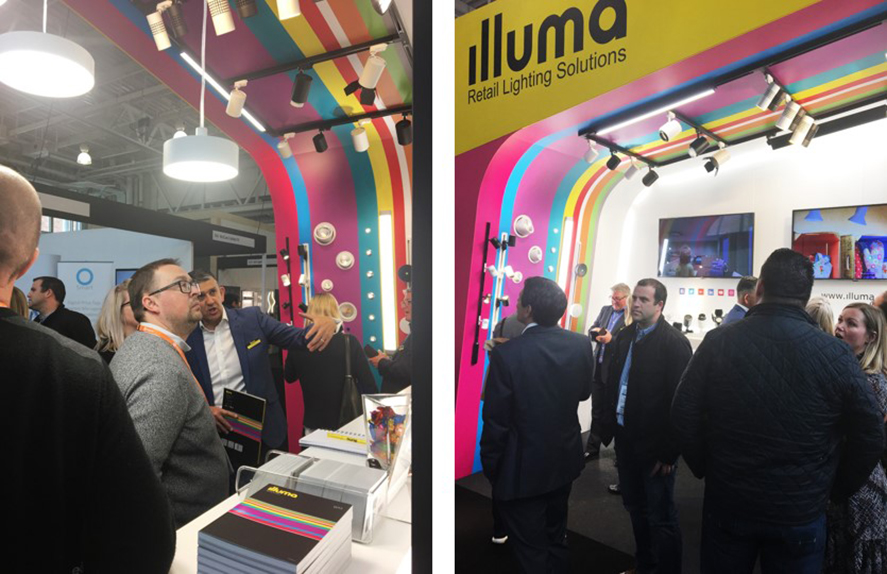 Eric Riley shows visitors around Illuma Lighting's Retail Design Expo Stand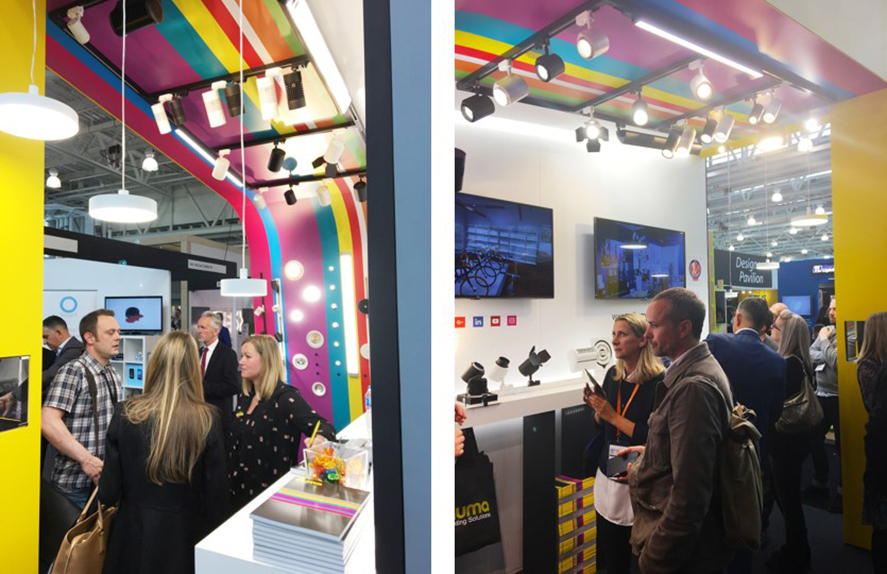 Sam Jenkins shows visitors around Illuma Lighting's Retail Design Expo Stand
While competition in the retail lighting sector is fierce, the number of visitors to the Illuma stand was incredible - especially considering it was only Illuma's second year at the show. The enthusiasm and interest in all that Illuma had to offer speaks volumes about how highly regarded and well respected the Illuma brand, product range and service reputation is in the retail sector.
Perfectly placed to serve a variety of applications and scenarios, Illuma has a proven capability for specifying, designing and managing client lighting portfolios. Illuma are renowned for their work in the retail sector where they have over 38+ years' experience of working with several leading clients including; Louis Vuitton, Disney, Adidas, Dwell, Oxfam, Peacocks, Selfridges, Harvey Nichols, Timberland, Cath Kidston, Vision Express, New Look, Next, Nike, Tommy Hilfiger, Superdry and Pandora to name a few.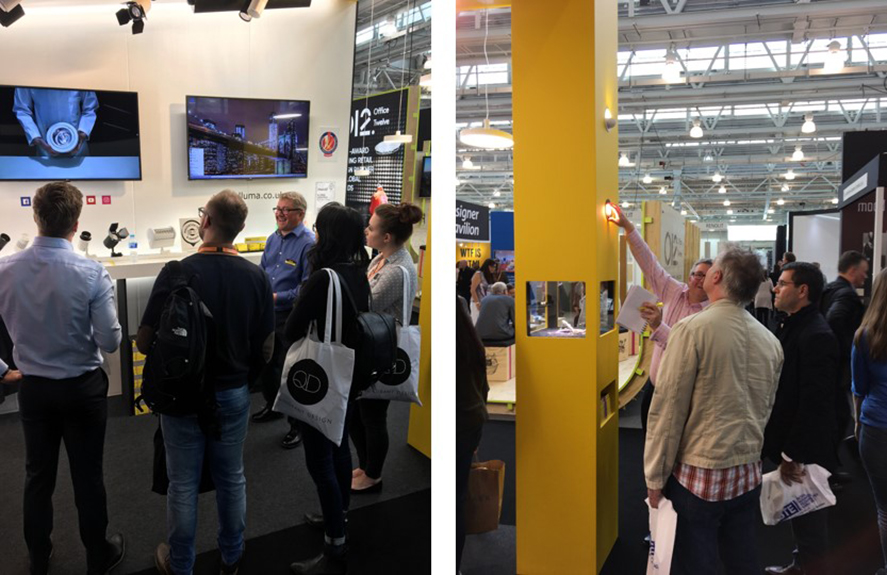 (left) Robert Chesterfield demonstrates Illuma's product demonstration videos (right) Robert Chesterfield gets hand on with Illuma's Twizzle LED downlight whilst showing visitors around the stand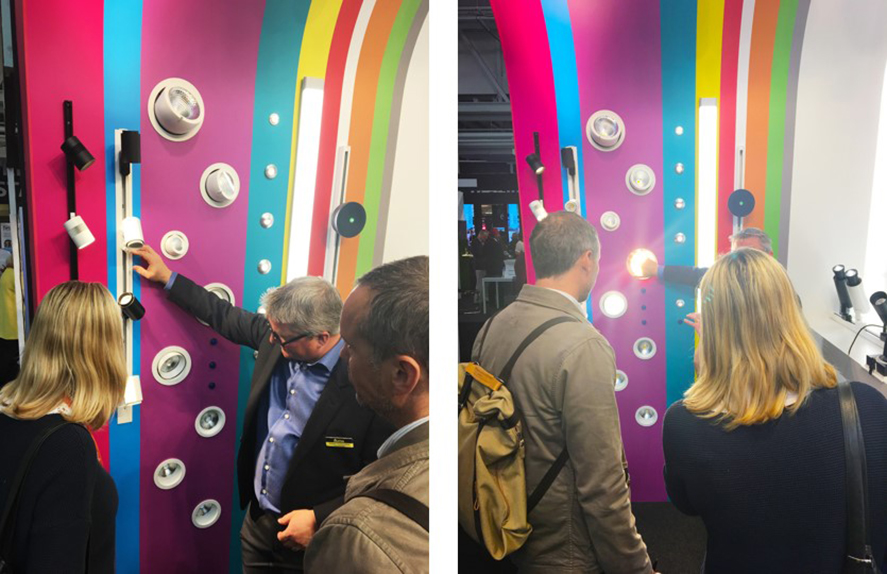 (left) Robert Chesterfield plays with Illuma's new Lumapar LED range (right) Robert Chesterfield demo's Illuma's new 9,000lm Highlux 175 LED downlight whilst try not to blind visitors

"At Illuma we're constantly looking for new shows to exhibit at. Not only do we enjoy exhibiting, we love meeting our customers face to face from all kinds of industries, all over the world. The beauty of Illuma is that we offer a variety of lighting solutions for all kinds of applications. Retail lighting is something Illuma are renowned for and have been for well over 38+years, you only have to look at some of the brands we've worked with to understand we know what we're talking about when it comes to lighting retail environments. All in all this was the perfect show for us to showcase some of our latest retail lighting solutions to all involved in the retail industry." - Lewis Hearne, Marketing Manager at Illuma Lighting
Of particular interest to our visitors was our NEW Prospot LED range of spotlights (shown below). Launching earlier on this year the Prospot LED range of spotlights has specifically been designed with flexibility in mind for multiple applications but in particular retail installations. The Prospot LED range has excellent colour rendering ≥90 CRI and is available with a variety of accessories. This high output, contemporary luminaire attracted a great deal of interest from shop fitters and designers in the retail sector at this year's show.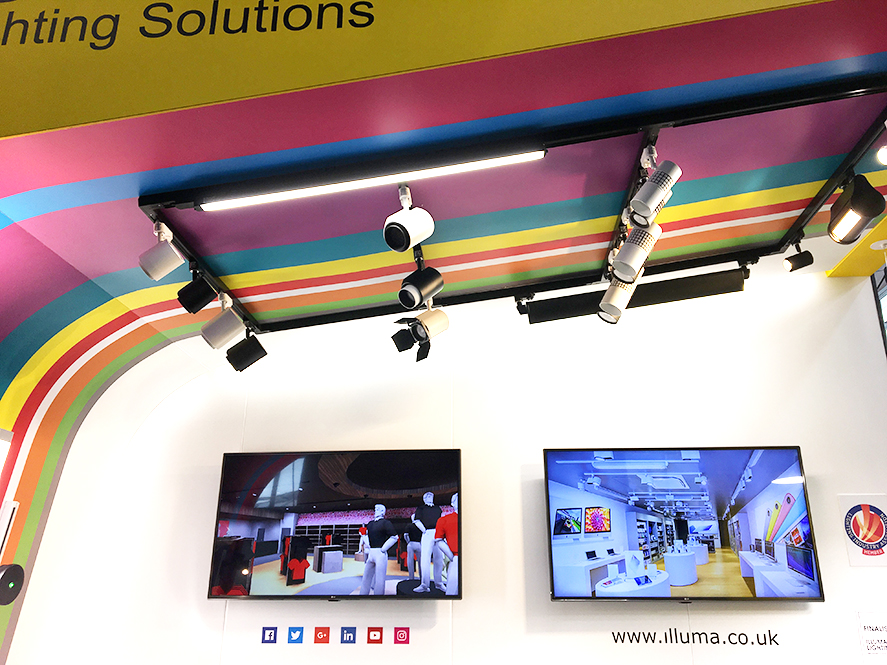 Illuma Lighting's 2017 Retail Design Expo Stand
INNOVATION TRAIL & AWARDS
Illuma's Highspot LED spotlight was shortlisted for the Innovation Trail and Awards at this year's Retail Design Expo and was highlighted on the 'Winners Wall' at the event. The overall winner was Sensape's visual retail solution.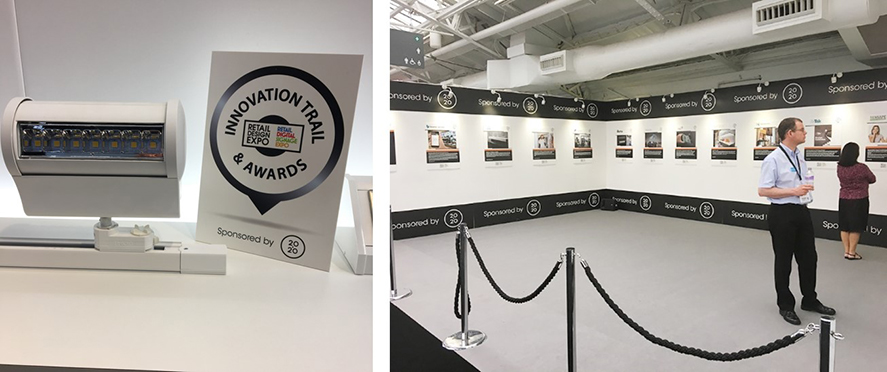 (left) Illuma's Highspot LED (right) The Innovation Trail and Awards 'Winners Wall'
If you missed us at this year's Retail Design Expo or would like any more information about our lighting solutions why not get in touch?
---
For more information about Retail Design Expo 2017 visit: Retail Design Expo 2017
Visited us at Retail Design Expo, or simply have an enquiry?
Contact us at sales@illuma.co.uk or call us on +44 (0)1332 818200
---
Share