NEW DIMLED Dimmer – Flicker Free - Silent Dimming!
Illuma are excited to introduce their latest range of innovative LED dimming solutions. The NEW DIMLED dimmer range.
Illuma's NEW DIMLED dimmer range is compatible with Leading & Trailing Edge LED lamps and fittings, including many of Illuma's newest products, such as the Prospot LED, Gridspot LED, Probeam LED, , Lumapar LED, Project 90 LED, Proseal F LED, Disk Pendant LED, Twizzle LED and Concepta LED ranges. Other compatible ranges include: Framelight LED 2, Framelight LED (CREE), Spira LED and Illuma's Project 85/95/115 LED 2s.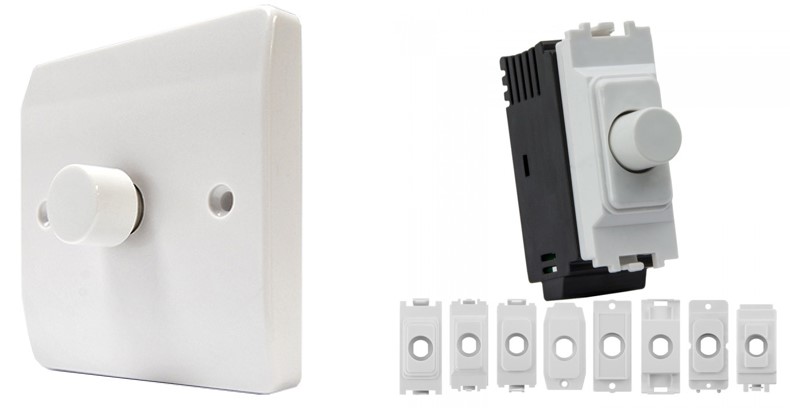 Above: DIMLED Wall plate and DIMLEDGRID, Adaptors For: MK Logic, BG, Hamilton, Mem, Wandsworth, Crabtree, Deta & Get
The DIMLED dimmer range has been specifically designed to dim LED Lamps. The advanced technology used to control the load provides flicker-free, easy to install and adjustable dimming – whatever the application.
Designed with both the installer and consumer in mind, Illuma's new DIMLED range has a built-in thermal and over-load protection with pre-programmed minimum level pre-set (MLP) and a start level pre-set (SLP) which can be easily adjusted if required. DIMLED provides the ideal dimming solution for retail, commercial and general interior environments!
The NEW DIMLED dimmer range is supported by Illuma's renowned five-year guarantee!
Easy To Install & Adjust
Flicker-Free & Silent
Comprehensive Range
Built-In Thermal & Over-Load Protection
Minimum Level Pre-Set
Start Level Pre-Set
Leading & Trailing Edge LED Compatable
---
VIEW Illuma's NEW DIMLED Dimmer range: DIMLED
Share