Light Middle East 2018 Review
Illuma in Dubai for Light Middle East 2018!
Firstly, Illuma would like to say a huge thank you to all that visited us at the 2018 Light Middle East show in Dubai! The show which Illuma has exhibited at for many years now has been an overwhelming success yet again and was a great opportunity for Illuma's international customers to come and meet the Illuma team face to face. Aside from meeting the Illuma team, visitors were able to get their hands on a selection of our latest, most innovative commercial and retail lighting solutions and discuss all things lighting.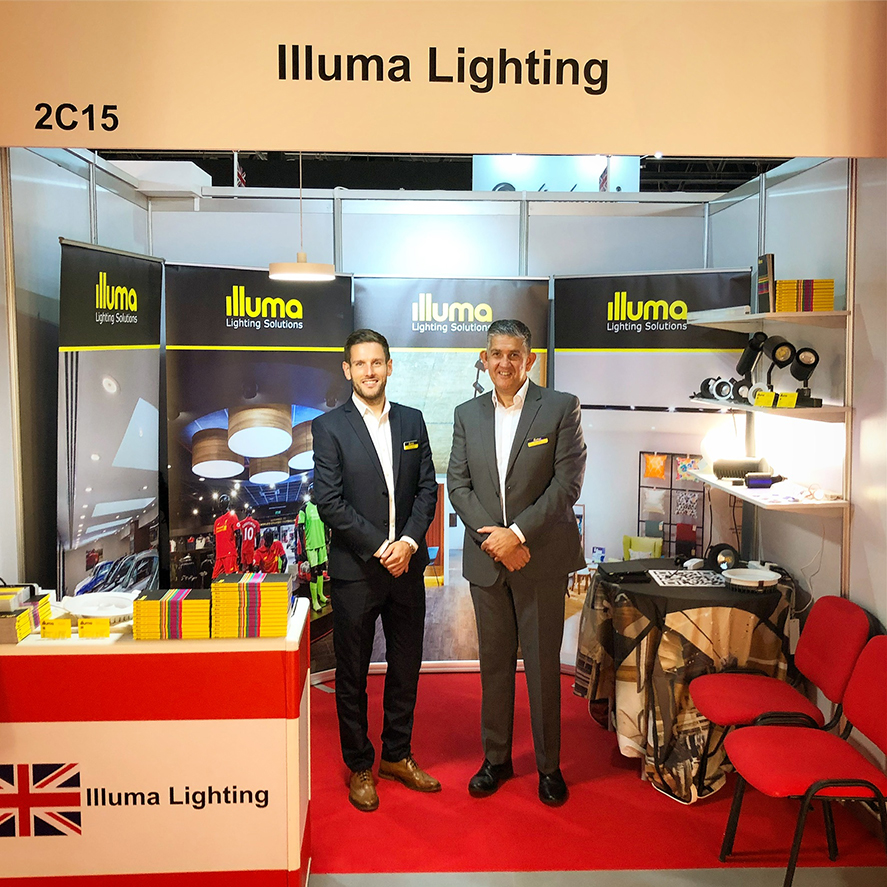 Morris Costello - Export Manager & Eric Riley - Sales & Marketing Director at Illuma, with the 2018 Light Middle East Stand
Held under the patronage of the Dubai Municipality, Light Middle East has over the years firmly established itself as the prominent trade fair for the region's lighting design and technology industry.
Light Middle East 2018 offered a comprehensive interactive platform for manufacturers, architects, designers, consultants, engineers, construction companies, hospitality industry professionals, government officials and more. Light Middle East 2018 was held over the 23rd - 25th September.
The number of visitors to this year's Illuma stand was fantastic. The eagerness to engage, and subsequently show interest in all that Illuma had to offer speaks volumes about how highly regarded and well respected the Illuma brand, product range and service reputation is all over the world.
Morris Costello, Export Manager at Illuma Lighting had this to say about this year's show, "What an incredible three days it's been at this year's Light Middle East show. This was my first show in Dubai with Illuma and I want to take this opportunity to thank all that visited our stand. The show itself was not only a great platform for us to meet face to face with many of our existing customers in the Middle East but also allowed us to meet lots of new and exciting customers that we hope to build a relationship with. This is a very exciting time for all involved with Illumas export department and we look forward to returning to Dubai in the very near future! "
If you missed us at this year's Light Middle East 2018 show or would like any more information about our lighting solutions, why not get in touch?
---
For more information about Light Middle East 2018 visit: Light Middle East 2018
Visited us at Light Middle East 2018, or simply have an enquiry?
Contact us at internationalsales@illuma.co.uk or call us on +44 (0)1332 818200
Share